Rhubarb Kitchen Recipes for Christmas Entertaining
Our friends at Rhubarb Kitchen have been experimenting with using our craft spirits in cooking. They've developed three delicious recipes that are perfect for Christmas entertaining – a Shining Cliff Gin-cured salmon for canapes, an indulgent Wire Works Whisky and marmalade pudding, and a simple White Peak Rum and pineapple dessert. Just like our whisky, gin and rum, these recipes have been developed with a focus on flavour, and they all show off the spirits beautifully.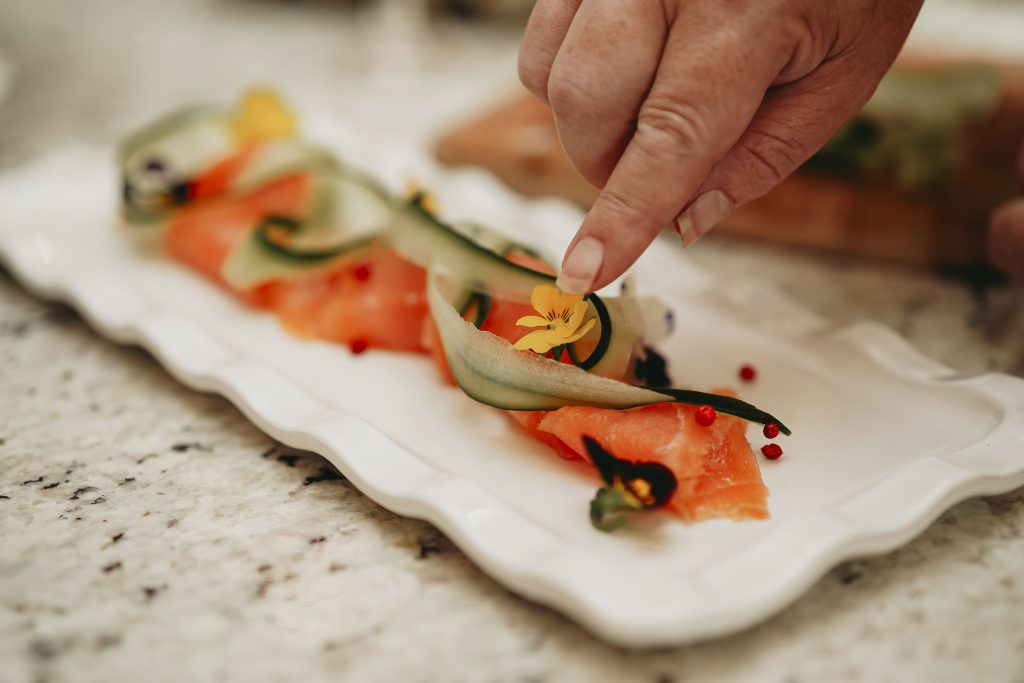 Shining Cliff Gin-Cured Salmon • Serves 4 • Prep time: 20 minutes • Make this recipe 1 day ahead
Ingredients
75g table salt
75g caster sugar
1 tsp grated lime zest
1 lime, thinly sliced
1/2 tsp black peppercorns, lightly crushed
1 tsp pink peppercorns
2 tsp coriander seeds
1 tsp cumin seeds
1 tsp juniper berries, lightly crushed
80ml Shining Cliff Original Gin
400g centre-cut salmon fillet, skin on, pin-boned
2 cucumbers
2 tbsp mint leaves
Method
STEP 1
Combine the salt, sugar, zest, black and pink peppercorns, spices, juniper berries and gin.
Spread half the spice mixture in a glass or ceramic dish.
Add fish, skin-side down, and cover with remaining spice mixture. Cover with cling film and chill overnight, turning fish after 12 hours and spooning any liquid in the dish over the top.
Remove salmon from dish, reserving any liquid, and rinse. Pat dry with paper towel.
STEP 2
Very thinly slice cucumbers lengthways and marinate in the reserved liquid for 30 minutes.
Drain, reserving 1 tbsp of spices from the curing liquid.
STEP 3
Very thinly slice salmon on the diagonal, discarding the skin. Arrange on a serving platter.
Scatter with cucumber, lime slices, mint, and reserved spices.
Drizzle with oil and serve with sourdough.
Marmalade & Whisky Bread & Butter Pudding • Serves 6 / 8 • Prep time 15 minutes • Cook time 1 hour, plus 30 minutes for soaking
Ingredients
8 croissants, sliced in half
50g butter, very soft
4 tbsp Seville orange marmalade, plus 4 tsp extra for the top
300ml whole milk
248ml pot double cream
3 large eggs
Seeds of 1 vanilla pod
4 tbsp golden caster sugar
1 tbsp Wire Works Whisky
Icing sugar for dusting
Method
STEP 1
Butter each slice of croissant on both sides, then spread 4 with the 1 tbsp marmalade each.
Pop the remaining bread on top to make 4 marmalade sandwiches.
Cut into triangles and nestle in rows in a large baking dish.
Heat oven to 160C/140C Fan/Gas 3.
STEP 2
Beat the milk, cream, eggs, vanilla, sugar and whisky together, then pour over the bread. Leave to soak for 30 minutes.
STEP 3
Dot the remaining marmalade all over the top of the pudding and dust with the icing sugar.
Bake for 45 minutes – 1 hour or until puffy and starting to caramelise where the bread breaks out of the custard. Serve hot or warm.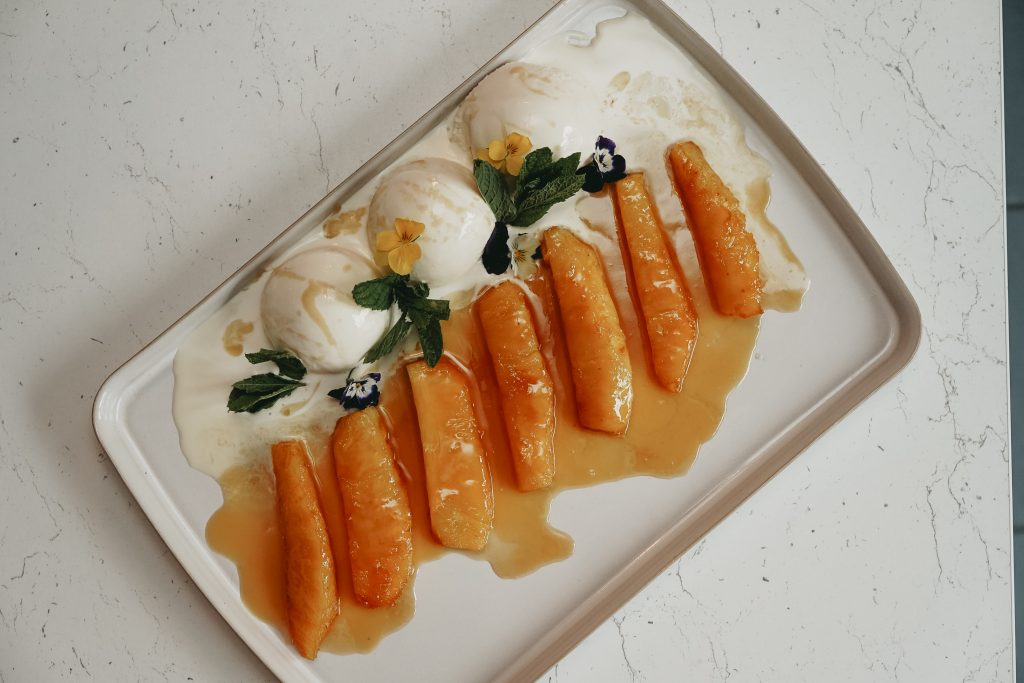 Rum Caramel-Roasted Pineapple • Serves 4 • Prep time 25 minutes
Ingredients
1 pineapple, peeled, and eyes removed
150g caster sugar
75g butter
100ml double cream
3 tbsp of White Peak Distillery Cask Aged Rum
Vanilla ice cream to serve
Method
STEP 1
Cut the pineapple into quarters lengthways, and cut out the core from each piece.
STEP 2
Put the sugar in a frying pan and heat gently, swirling the pan until it is dissolved.
Turn up the heat and cook until the caramel is the colour of a rusty penny.
Carefully add the butter and swirl until fully dissolved.
Add the pineapple and cook for 10-15 minutes, turning, until softened and glazed.
STEP 3
Put the pineapple onto serving plates and add the double cream and rum to the pan.
Heat together and spoon over the pineapple.
Serve with vanilla ice cream.
Rhubarb Kitchen is based in Wirksworth in Derbyshire, just up the road from the Distillery. The Rhubarb Kitchen team provides delicious catering for all sorts of events – send enquiries to hello@therhubarbkitchen.co.uk.