Christmas Gifts for Whisky Lovers
Whisky Gift Sets
Build your own limited edition gift set, choose from our range of available Wire Works single malt whisky, and add a tasting glass and/or a T-shirt. We'll send it out in our award winning postal pack which tells our story.
Bottles
Wire Works Virgin Oak Finish
Lightly peated single malt whisky initially matured in ex-bourbon barrels and then finished for several months in virgin oak. Just 3,061 individually numbered bottles available – a great gift for any whisky connoisseur.
Caramelised sugar, leather and apples on the nose, good mouthfeel with pepper and fruit flavours on the palate and a smoky-sweet clove finish.
Deliver this bottle directly to the recipient in our post-ready Wire Works Whisky box.
Wire Works Small Batch Autumn Release
A complex, approachable single malt whisky in our lightly-peated core house style. Vanilla butter fudge, green apples and fruitcake on the nose, with tobacco, bitter orange marmalade and cereal on the palate, with smoke and spice on the finish, fading to a sweet vanilla.
A great gift for anyone who appreciates a great dram of single malt whisky.
Deliver this bottle directly to the recipient in our post-ready Wire Works Whisky box.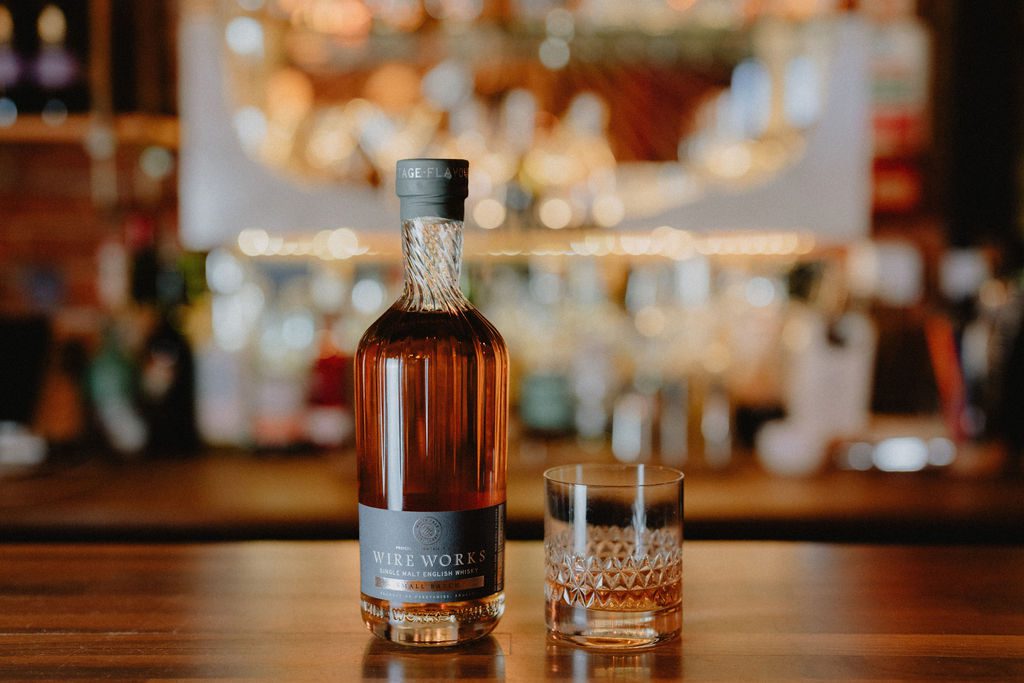 1876 Single Malt Cocktail
This premixed single malt cocktail is a smooth, warming blend of our single malt spirit, sugar syrup, Angostura bitters, and an absinthe wash. Simply pour over ice and enjoy. Our 1876 is available on its own or as a gift set.
Glassware to enjoy whisky with
Spey glasses
These classic whisky glasses are shaped to gather the aroma of the spirit to maximise flavour. Small or large sizes available. Our logo is engraved on the base of each glass.
Rocking glasses
These rocking glasses gently spin and rock on the table for a bit of fun, but don't worry, you won't spill a drop. Our logo is engraved on the base of each glass.
Castello Glasses
Our Castello glasses, with a subtle ridged effect, are great for whisky cocktails. Choose the tumbler for Old Fashioneds or the taller glass for whisky highballs.
Wire Works Whisky Enamel Mug
10oz enamel mug printed with the White Peak Distillery and the Wire Works Whisky logos. The perfect vessel for a hot toddy!
Barware
Ideal stocking fillers, or little extras to go alongside a bottle.
A silicone ice cube tray for large, satisfyingly slow-melting ice cubes for your whisky.
A copper jigger for perfect cocktail measures.
A White Peak Distillery branded bar blade to crack open the beers.
Wearable Wire Works gifts
We've got a range of Wire Works and White Peak Distillery clothing, for the White Peak Distillery super fan! Printed cotton T-shirts, an embroidered sweatshirt and Wire Works baseball caps.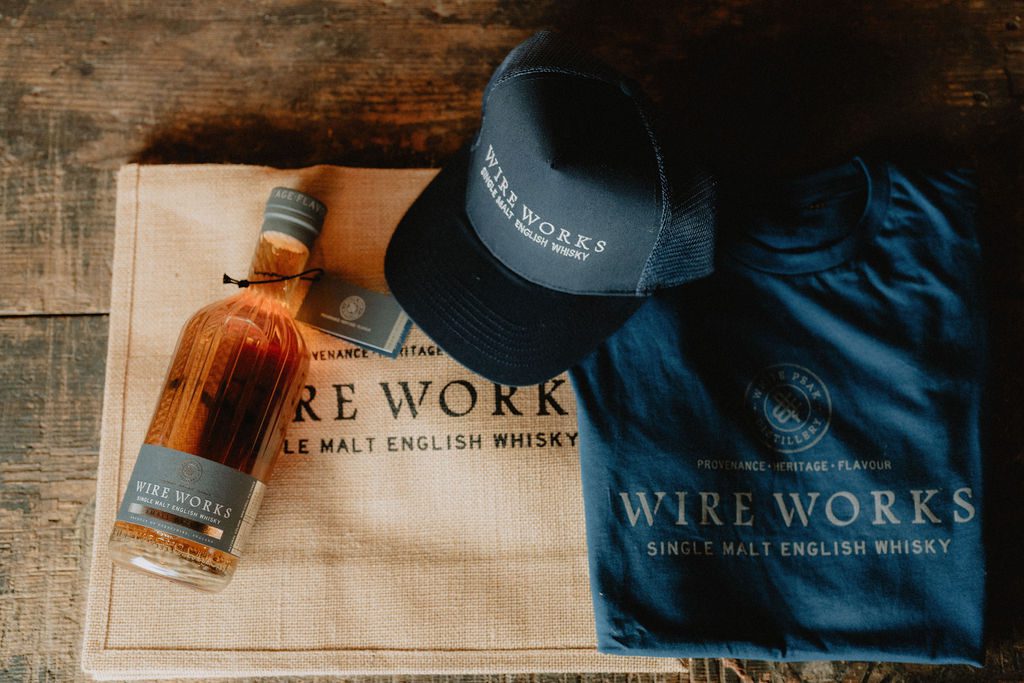 Whisky Tour Vouchers
Our Whisky Tour takes you around the Distillery with one of our distillers, with plenty of whisky samples along the way. Whisky Tour vouchers make the perfect gift for anyone who enjoys whisky and learning about how it's made. E-voucher or postal voucher available. E-vouchers arrive instantly (in case you've left it late!).
Shop online 24/7, or pop into our Distillery shop. We are open Monday-Saturday 11am-5pm. We close at 4pm on Fridays.
We're hosting a Christmas Shopping Evening on the 1st of December – enjoy some samples and a mince pie while you get some Christmas gifts wrapped up!