White Peak Distillery Spring Events
The Great Derbyshire Beer Festival
1-2 April
We'll be at the Great Derbyshire Beer Festival at Bustler Market on 1-2 April. Our Shining Cliff gin will be available (from the horsebox bar) at the event, for those looking for an alternative to beers. Our team will be there serving up drams of our first release of Wire Works Whisky too.
Community Litter Pick
7 April
Our Spring litter pick will begin and end at the Distillery. It's open to all, and we're grateful to anyone who turns up to help!
We'll collect litter for around an hour to 90 minutes, before heading back to the Distillery for a beer in Yellow Wood.
We'd love for you to join us. Please let us know if you're planning to come along by clicking attending on our Facebook event page, so we can make sure we've got enough gloves and pickers etc.
To say thank you, if you do four litter picks with us, you'll become a co-owner of our community cask! Here's a photo of our team after September's litter pick in Belper. We'll hope for similarly good weather!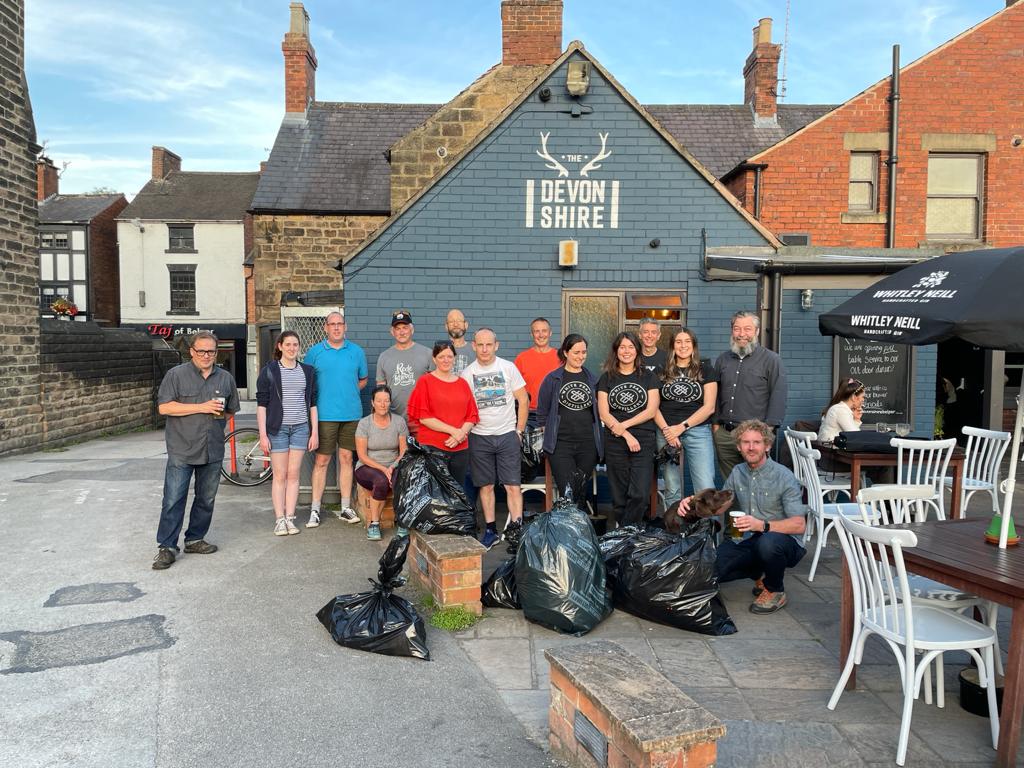 Zoom Whisky Tasting
22 April
Join us for the first Zoom tasting of our Wire Works Whisky on 22nd April. Book your ticket here. 
You'll be guided through a tasting of three samples of our lightly-peated single malt whisky, including our new make spirit, and a sample of our second whisky release, with plenty of time for discussion and Q&A too. As well as 3 x 30ml samples, inside your pack you'll find a tasting card and a spey whisky glass. There are just 45 tickets for this event, and we expect it to be popular, so book your ticket as soon as you can.
Yellow Wood Sessions
7 May & 11 June
We'll be hosting regular events in our outdoor space Yellow Wood over the spring and summer months – Yellow Wood Sessions. Each event will be a little different, but they'll all be relaxed events, where you can enjoy some good company and a few good drinks under the trees.
Our first two Yellow Wood Sessions will be on the 7th of May and 11th of June. Both of these events will run from 4pm – 8pm and there will be live music and a bar serving our spirits, cocktails, local beers and salty snacks. Tickets will be £15 a head, and £10 of the cost of the ticket is redeemable at the bar. Buy your ticket here.