White Peak Distillery will be at the Belper Food Festival Christmas Market
Last weekend, we pitched up at Belper Food Festival for the first time to sell our spirits. We'll be signing up for the next one on Sunday the 5th of December too, so make a note of the date in your diary. It will be a good opportunity to do some Christmas shopping and support some local makers, bakers and distillers. We'll be there with our Shining Cliff Gins, Rum and our Christmas gifting range.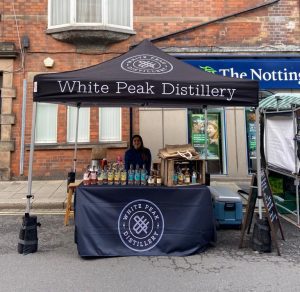 Belper Food Festival takes place just five minutes down the road from our Distillery in Ambergate. We really enjoyed being part of such a busy community-focused event right on our doorstep. The Festival pulls in a great crowd and attracts an interesting variety of traders, and it was wonderful to see the town centre bustling with people, especially after so many cancelled events. Thanks to all of the volunteers who helped traders get set up and cleared down on the day.
We were trading on Strutt Street next to our friends at Fresh Basil, where you can buy our Shining Cliff Gins and our Cask Aged Rum. You can find amazing artisan chocolates made with our whisky, rum and gin at I Should Cocoa just over the road, and you can find our spirits on the shelves at Liquid Treasure too.
See you at the next Belper Food Festival on Sunday the 5th December!